About DreadorDead Surf School
Why Learn Surfing at Dreadordead
Dread or Dead surf Shop was established since 1995. The store itself started from very small beginnings and has over the years grown into a fully-fledged surf shop that can rival any store the world over for the products we carry and friendly service. At the head is Russell Garrett a surfer for life. A partnership forged from the passion for the sport of surfing and lifestyle that all wave riders lead. So the shop was born out of an obsession to ride waves but, also, came to exist from doing board repairs, surf lessons and the buying and selling of surf boards.Tech equipment,wax,apparel ,fins, leashes, repair kits ,reef boots  etc ,in-fact  you name it we have it . Dread or dead is a family run business and is grateful to all my friends , colleagues, family and customers That have supported the shop over the past 25 years . We could not have done it with out all of your support .
Top Surf School in Barbados
Besides Fabulous Surfing Lessons and Packages
Excited about planning your surfing vacation in barbados, then choose the best surf instructor which happens to be the dreadordead who will guide you through beginner lessons, train you and help you learn surfing very easily.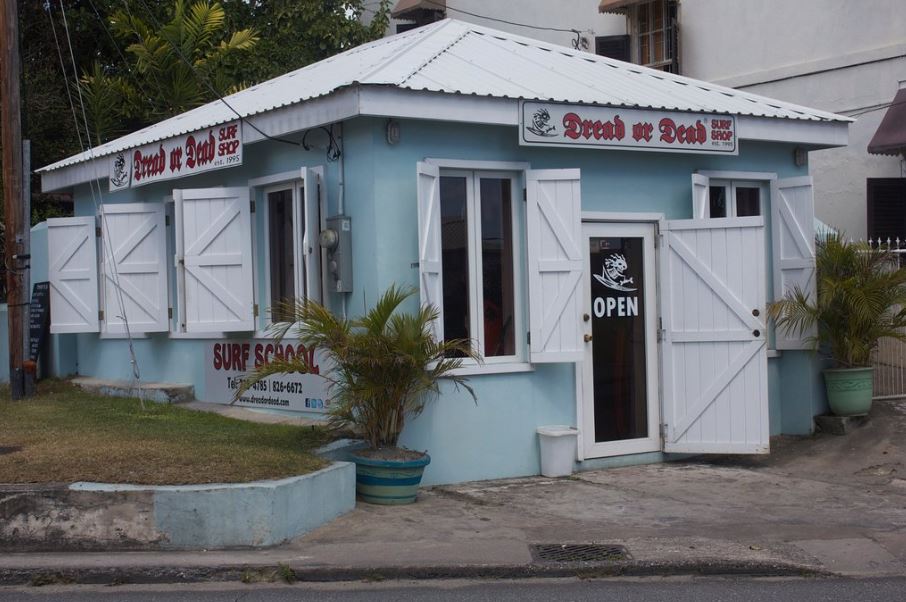 Dreadordead History
The Surf School quickly became a large and important part of the shop, bringing new customers and friends to us up to the present day. obviously over the last few years the surf industry has gotten a lot larger. What started as one or two surf lessons a month are now every day twice a day. The old louver shutter leaky roof shop has been replaced with a new bright well laid out A/C shop. The only thing that remains the same is the people that run the place and the same courteous, respectful and honest way we have always conducted our business.
Learned to surf in one day Matthew was a great professor. He told us that we will learn how to surf from day 1. He was right. My gf actually ride the wave on her first try! Yay! The lesson started with a brief theory but enough for things to get going. Thanks for everything Matthew, you're a rest guy, a good professor and Dread or Dead surf school is the place you need if you want to learn how to surf. Timisoara, Romania
Perfect surfing experience Meeting Matthew and Russell was one of the highlights of our trip. Matthew was a great and encouraging instructor. He took us to an ideal location with plenty of friendly conversation along the way. If you like to surf look no further! Atlantic Beach, New York
Don't miss a chance for a great surf lesson Got super helpful, individual attention from Axe who is encouraging and gave good pointers to improve my surfing. He picked out the perfect board and chose a spot with the right wave height. He really helped in deciding which wave to grab. Getting to surf with turtles was a huge bonus. Drvmycar Beverly, Massachusetts
Want to book a Surf Lesson, or looking for a surfboard!